NEWS & INFO - 1/21/04
JustOgg 1.0.1 is available for download. JustOgg can decode and play back Ogg Vorbis audio files and internet streams. More info about JustOgg can be found on the development page.

NEWS & INFO - 1/21/04
MpegDec 3.11 has been available for download since early in December.
> System Requirements
> Features List
> Version History
MpegDec will be getting a pretty big new feature in the future. It will be able to decode and play OggVorbis audio files and streams. While the MP3 format can produce "near CD-quality" audio at 128 Kbps, the OggVorbis format can produce similar results at roughly 64 Kbps.
Mark is currently working on getting the OggVorbis decoder working with the MpegDec application. For testing purposes, he has created an OggVorbis-only version of the program appropriately called JustOgg. Efforts thus far have looked very promising. The current beta supports playback and conversion on PowerMacs, and conversion-only on 68K Macs
JustOgg should soon be available for download. This will likely be a separate program at first. At some point, JustOgg might be incorporated into MpegDec. More information about JustOgg can be found in the development section.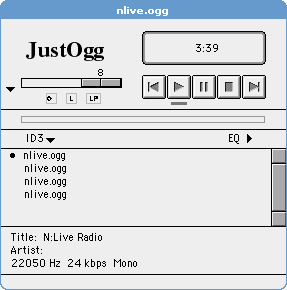 > Past News Articles from 2003.
> Past News Articles from 2002.