ABOUT MPEGDEC
MpegDec is an MP3 (MPEG Audio Layer 3) player for Macintosh computers. It is a Macintosh port of Stephane Tavenard's excellent MpegDec MP3 decoder originally designed for 68k Amigas. Considering that the 68k Amigas and 68k Macs share the same CPU, a fast port was possible.
It uses 68k assembly language optimizations and is the fastest MP3 decoder for 68k CPUs. It is closely related to Stephane Tavenard's mpega library for the Amiga, which Amiga MP3 frontends like AmigaAmp use.

Why Should I Use MpegDec?
The biggest reason to use MpegDec is that it can play MP3 files in realtime on almost any Mac. Even "older" Macs with 68K processors are now able to play MP3's.
MpegDec also offers quite a few features at an incredible price - free. And the feature list is growing rapidly. Whether you have a new PowerMac or an old Quadra, you owe it to yourself to try MpegDec on your system.

What Features Are Currently Available In Version 3.1.1?
MpegDec 3.1.1 supports playback and conversion of MP3, MP2, and MP1 files. It features a Drag and Drop interface, standard playback and volume controls, multiple playlists, setlists, time display, and ID3 song info display. It also allows seeking to any position within a song, random and loop functions, a graphic equalizer (PPC-only), and an autostart feature.
MpegDec 3.1.1 also supports MP3 Streaming via OpenTransport. Instructions for setting up your web browser for PLS and M3U playback are included.
MpegDecAIFF 3.1.1 allows conversion of MPEG audio files to AIFF and WAVE files.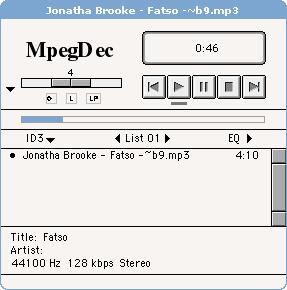 MpegDec 3.1.1 Features in List Format
- Multiple playlists
- Setlists (ordered playback of multiple playlists)
- Plays MP3 (MPEG 2 and MPEG 2.5 supported) MP2 and MP1 files
- Seek to any position within MP3 file
- MP3 streaming using OpenTransport
- PLS, M3U file and browser support
- Xing VBR and Fraunhoffer VBR support
- ID3 artist title info
- Bitrate and frequency info
- Runs on Mac OS 7.1 (with Drag and Drop 1.1) up to Mac OS 9
- Playback and volume controls
- Time display
- Random and loop playback
- EQ with saving and loading of EQ preset files (PPC only)
- MP3 to aiff background batch converting (MpegDecAIFF)
- Autostart feature which can be used to run MpegDec
- automatically on boot with no need for a monitor.

System Requirements for MpegDec 3.1.1
68020 CPU or PPC - FPU is not required.
(68040 or 68030 50Mhz recommended for realtime playback)
Quicktime 2.1
(Quicktime 2.5 and SoundManager 3.2.1 recommended)
MacOS 7.0 with Drag and Drop 1.1 and Finder 7.1.3
(MacOS 7.5 and higher recommended).

What Kind of Performance You Can Expect
MpegDec provides options for getting the best performance out of your Mac. Preference settings include options for frequency division, quality, stereo/singlemix, and buffer size. Here is a rough preferences guide for playing 44100Hz 128kbps MP3 files.
PowerMac:
There are no quality settings for PPC - playback should be fast
80/40MHz 68040:
Medium or High Quality should work in stereo mode
Frequency Division 2 (Fast)
66/33MHz 68040:
Low Quality should work in stereo mode
Frequency Division 2 (Fast)
40/20 & 50/25MHz 68040:
Low or Medium Quality should work in mono singlemix mode
Frequency Division 2 (Fast)
Fast 68030:
Low Quality, Frequency Division 4 (Fastest) in mono singlemix mode will probably play 44100Hz 128kbps MP3 files on a 68030 50MHz.
AppleTalk and Virtual Memory can interfere with performance.
Increasing the disk cache size minimizes disk read interruptions.
On 68K Macs, lowering the quality settings may allow you to continue working with other programs while MpegDec plays music in the background.